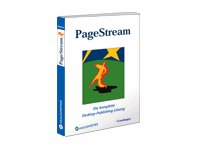 The professional DTP solution
PageStream is a full-featured desktop publishing program. It is suitable for all levels of publishing, from simple newsletters to color advertisements to technical books. With PageStream you can create letters, colorful schoolwork, presentations, business cards and any other type of document. Thousands of people have been using PageStream for years to realize their dreams, from rubber stamps to airline livery!
Deron Kazmaier was one of the first to develop a desktop publishing program. The first version of PageStream, known at the time as Publishing Partner, was released in 1986 for Atari ST computers. Personal Publishing magazine reviewed it and called it a "knockout program".
Publishing Partner grew into PageStream and was released for Amiga computers in 1989. PageStream went on to win every major Amiga and Atari award. PageStream is available for AmigaOS, MorphOS, Windows, MacOS and Linux.
How is PageStream different from other DTP programs?
Like other publishing programs, PageStream can be used to set type, draw objects, and place graphics. It has extremely precise typography, professional printing, and a rich assortment of features. PageStream differs from other DTP programs in that it has most of the drawing features of an illustration program, some unique features that Quark and Adobe haven't thought up yet, a lower price, and most importantly, an outstanding interface.
PageStream features include:
Native Indexing
PDF export
Multilevel chapter/page numbering/names (ie 6.8.1)
Hilight Page Number/Data/Time etc to edit
Defined styletags & variables at chapter level
Native signature printing (many pages on 1)
Business card/label printing (many copies of a page on 1)
Configurable FPO size
PageLiner 3.0
HTML text import/export
Definable default text attributes
Fonts/Styles in use toggle
Local page guides
Layers
Drag & Drop text
Find & Replace improvements

insert special characters
wildcards
attributes

Trapping
Automatic before and after paragraph rules
True smallcaps
Table of contents generation
Figure numbering
Paragraph numbering
Definable Kerning Pairs
Definable Tracking Tables
Optical alignment/Hanging punctuation
Edit mask in place
Page Setup for spreads/range of pages
Bookmarks
Collect for output
Lasso select
Distributed on CD-Rom
and much, much more!
Classic Amiga:
Minimum:


68020
16 MB free memory
60 MB of hard drive space
CD drive
AmigaOS 3.0

Recommended:


68040
24 MB free memory
60 MB of hard drive space
CD drive
graphic card
AmigaOS 3.0
AmigaOS 4:
Minimum:


20 MB free memory
60 MB of hard drive space
CD drive

Recommended:


40 MB free memory
60 MB of hard drive space
CD drive
MorphOS:
Minimum:


20 MB free memory
60 MB of hard drive space
CD drive

Recommended:


40 MB free memory
60 MB of hard drive space
CD drive
Amiga Plus: 91%
"Number of functions enhanced; known faults fixed; improved support for non-postscript printers" ."With the distribution of the DTP-champion PageStream, the software-house Haage&Partner has given the Amiga a portion of proffesionality again." (Amiga Plus 12/97)

AmigaOS
"At the very last since version 3.0, PageStream has become an unbeatable force in the DTP world for the Amiga" (amigaOS 4/99)

Amiga Special
"PageStream is on the Amiga surely the absolute best when it comes to DTP." The program offers everything you could need for pagelayout and printing templates." (Amiga Special 6-7/98)