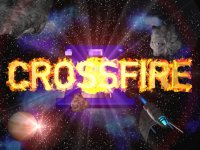 Crossfire II
is known as one of the best 2D Space-Action shooters. It is already available for 68k and WarpUp Amigas. Because of Steffen Huser and Alinea-Computer it is now possible to play this ingenious game on AmigaOS 4.
In Crossfire II you play the role of Karsten, a fighter pilot of the rebels. A wide range of missions awaits you, ranging from escort, defense to large battles in an armada of ships. These missions tell an extensive story with several surprising turns that take you to the strangest places of the known universe.
For more information about this game go to the
Dreamworlds site.
Crossfire II can be ordered at the
APC & TCP site and in our
OnlineShop.
Campaign, Dogfight and Survival mode
Over 40 weapons
Up to 3000 objects on the screen at any one time
16 Bit colour mode
Very atmospheric music that changes depending on your situation within the game
You need the following to be able to run the OS4 version of Crossfire 2:
Software:
Hardware:
at least a 150 MHz PPC
32 MB free memory
Graphic card
and at least 100 MB disc space
Amiga Arena:
Ich kann allen Freunden von Action/Shootern "Crossfire II" nur uneingeschränkt empfehlen!
Amiga-Future
:
Egal wie man zu Spielen ala Crossfire II steht, Dreamworlds haben hier eine saubere Arbeit abgeliefert und verdienen dafür auf jeden Fall höchste Anerkennung.
Amiga-Plus:
Positiv war als erstes die einfache Installation... Abstürze waren ebenfalls nicht existent. Größere Ansatzpunkte für Kritik sind quasi nicht vorhanden.... Crossfire II bietet trotz nur durchschnittlicher Technik einen Heidenspaß im Einzel- und Mehrspielermodus. Wer schon immer eine kurzweilige, witzige Mischung aus Super Cars und Wing Commander spielen wollte, sollte Crossfire II ins Visier nehmen.
Saku #42
:
I don't dare to give an overall rating for the game, because I haven't finished it yet. But I have liked what I have seen so far, and it's easy to see that the creators have put a remarkable effort in the making of the game. It's also a positive thing that the game (should) run in various emulation environments. I recommend to try out the demo, but please note that it might be a bit hard - at least it was hard for me. The game itself is a lot easier to get into.